Saturday, December 04, 2004
New Best Friend
Posted by Hello
Saturday, November 13, 2004
Analysis: tribe.net
TRIBE.NET
Tribe.net is a free social networking site, based in San Francisco, that has multiple layers of discussion-board based "tribes." Anyone in the world can use the site for free, but users in the United States join localized Tribes. For this project, I joined the Raleigh Tribe.
On the page titled "Why join Tribe.net?" the purpose of t
ribe.net is defined as "connecting with other people in your community about what to do, where to go, jobs, places to live, and services. Get the most out of where you live!" The site is aimed directly at what Berry Wellman calls a "Clicks and Bricks" integration of an online social network into the fabric of "real" community life.
Local Integration
The site is free to members because it generates income from local advertising. To that end, the site is promoted as a gateway to your local community. On the A
bout tribe.net
page it reads: "
The service is provided to you free of charge, and we're going to do our best to keep it that way. Our intention is to derive revenue from commercial uses such as job postings
." These revenue generating relationships are most visible in
listing partnerships
wherein companies maintain and update listings on tribe.net and when a member selects the appropriate link they are taken directly to that partner's Website.
A good example of this on the Raleigh page is under the
Housing
section where
Apartments.com
regularly list and update apartments.
One of the "friends" I made on tribe is an Internet start-up guru who hangs with the tribe.net founding fathers/mothers. I asked him about the profitability of the site thus far. Here was his response:
"Tribe and most social networks do not make money, they lose. They are currently in the building stage where they are prepared to take losses. The theory is that if they build the network, then somebody will figure out how to monetize it. " --Randy (112 friends)
The site has other
localized content
: recommendations, events, and listings from fellow tribe members (as opposed to listing partners). Members can recommend anything...local restaurants, parks, shows etc. and when a recommendation is posted a
discussion thread
is started so that other members can share their experiences and agree or disagree with the recommender. Tribe.net also allows members to post and promote upcoming events in their locality. Listings are free classified ads. Members can sell items or meet people. Tribe.net allows members to selectively market their listings and events. Members can segment by friends (up to 4 degrees), zip codes, or tribes.
As it is a business, tribe.net must stress the function it can play in enhancing local economies. Thus, it uses exemplars (success stories) that demonstrate
1.
How the site enhanced the lives of its members by giving them access to some form of social capital and
2.
Demonstrating to local businesses that Tribe.Net is a solid source of human capital:
Chris
, in
San Francisco
, tapped his social network to find a part-time handyman job so he could finish school.
Jodi
, in
Los Angeles
, responded to a tribe.net listing and landed a consulting job for an LA-based script writer.
Jackie
, in
Portland
, moved to San Francisco and used tribe.net to find a job, an apartment, a roommate, new friends, and storage space.
Michael
, in
Indiana
, started the "Short Stories" tribe, whose members include both writers looking for feedback and publishers looking for talent.
Of course, the role tribe.net plays in a particular local is dependent upon the potential impact members can have in the market...which depends entirely on the number of members. Here is example that ranks three markets by number of members and number of Housing ads:
City/Tribe

--

Housing Ads

--

Tribe.Net Members
Raleigh--
8-- 921
New York City--
97-- 9,276
San Francisco Bay Area
--216 --42,913
Raleigh is a very small market for tribe.net.
The "Virtual" Tribes
Though many users will likely buy, sell, rate restaurants, and job hunt using tribe.net, the vast majority of users do not. A vast
network of interlinked, non-geographically based, topical tribes
(over 23,000 as of 11/13/04) has been built and is more about self-definition and socialbility than with any particular physical location. These tribal associations continue to morph as tribes themselves adopt identities, and are used by members to present their own indentities. Are these individual tribes or the entire tribe.net structure itself qualified to be considered a virtual community?
Here is a tribe interface from one of the more active tribes of which I am a member: The Princess Bride Tribe (don't laugh)!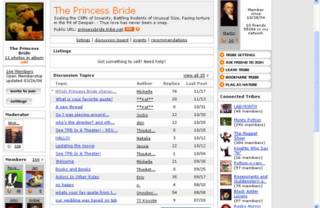 Your Profile is "Virtually" Everything!
Your existence in tribe.net is defined by the information others are allowed to see in your profile. Members can select exactly what they want others to see. By filtering out or deciding to include certain information they define the potential experience they might enjoy in the tribes. There are three sections to a profile....Here is my Profile:
The Basics:
Personal Info
:
and Professional
:
Each profile has an attached photo album in which users can post photos to further define themselves or their interests. Here is an example from one of my "friends":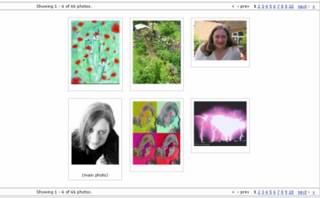 The Profile
A profile is a member's complete identity, as it is in many online communities. It contains their avatar, photos, a stable of friends, testimonials, a list of tribes to which they belong, their interests, and vita statistics (or at least items from this list they decide to make visible to other users). Users have a great deal of flexibility in determining what information is displayed to other members, but a few items are almost always included: their number of friends, the number of people in their network out to four degrees of separation, their purpose for subscribing to tribe.net, and the tribes to which they belong. Why? because these represent social capital on tribe.net.
On individual avatars, the number of friends is displayed like a rank. Here's mine:


Thus tribe.net attempts to integrate itself into the fabric of physical communities as well as provide a virtual forum (or third place) for users to gather and share emotional connectiveness to various topics. In an analysis considering whether tribe.net is a community, one must consider two levels: the macro-level where tribe.net is defined as a tribe of local tribes and the micro-level which centers of the individual tribes and the personal interactions that take place therein.

Is tribe.net a Community?

Anita Blanchard focused on the concept of sustainability when separating a viable virtual community from virtual groups. Sustainability is vital here as tribe.net will need to demonstrate to local and national advertisers an active network site that is attracting new members and sustaining an online dialogue. I have joined tribes in which an entire week passed before someone added a post. Tribe.net doesn't seem to have a policy regarding the length of time an inactive tribe will be allowed to exist, but it would be important to demonstrate that the tribes are active. Otherwise it would be very hard for site managers to convince sponsors that there is a viable market on tribe.net.

Along with sustainability, there must be some sort of connectiveness between community members. It is easy to fall into the trap of "collecting friends" but every once in a while you are reminded that these connections are considered by many members to be real relationships with the responsibilities that attend friendships in the real world. One of my friends apologized for not writing (I never expected her to feel a duty):


"How's it been going? I'm sorry I've been such a lousy correspondent lately
- School's been v. busy, plus the closer we're getting to the holidays, the
more busy the social scene seems to get. How the heck am I supposed to keep
my tribe-habit well-fed when I'm not being allowed to be a hermit
anymore?!?!?!" - Jess my kat
Blanchard quoted McMillan and Chavis (1986) in describing four essential elements for establishing a sense of community: feelings of membership, feelings of influence, Integration and fulfillment of needs, and shared emotional connections. The first three of these are alive and healthy in the tribes. In order to post, you must register in a tribe. This restricts the discussion participants to only those who are interested in the topic and makes it easier to get to know your tribemates which fosters emotional connections.
A feeling of membership is enhanced as tribe names appear on profiles and icons appear on user's profile page. With fewer numbers involved in discussions, users wield more influence, especially since the name of the originator of each conversational thread is maintained at the top of the thread along with the number of responses. This gives a measure of one's influence. The emotional connection is hard to isolate. Some tribes meet in real life from time to time, and there are "support tribes" for those fighting various diseases, etc., I recently learned of a few happenings that might qualify as crystallizing events as Howard Rheingold has described. I will detail them below.
According to Graham Lampa, "[T]he continued coherence of an online community depends upon the strengthening of shared experiences and fortification of what it means to be a [participant]."
I believe Lampa's shared experiences are what is holding many of these tribes together.
I am in tribes teamed on books, movies, and the Philadelphia Eagles. Conversation has NEVER strayed beyond discussion of a particular character, a quote from the film, or of course the latest Eagle's victory or Loss.
In tribes like this, there is a strong sense of shared experience,
but that experience and any emotions attached to it are firmly rooted in the "real world" not the virtual world of tribe.net
. I found it interesting that there were tribes that
BORROWED
an imagined community (in the sense Lampa meant when discussing newspapers) from the "real" world in order to create a fake one in the virtual.
On the individual level there are many sociological and psychological factors that might explain why individuals value membership in these online tribes. Brian Carroll uses Aristotle to frame a need for spatial gathering spaces (similar to Habermaas's Third-Place construct) that is often met by networking sites. This function is served most well by tribe.net. Miller and Shepherd discuss the psychology of self-disclosure which involves constructs such as self-clarification, social validation, relationship development, and social control. When evaluating how members choose to present themselves in profiles and after reading discussion threads, it is obvious that many of these "needs" are being fulfilled for users.
So What is the Core of tribe.net?
Is tribe.net about members of a physical community looking for ways to connect with others in the real world socially, professionally, or spiritually (the "Clicks and Bricks" concept of Wellman), or is it more about the new identity one can "wear" in online tribes and the acceptance, definition, and relationships that can and do emerge from discussions? One motivation is directly in line with the stated ambition of the tribe.net founders, the other is more in line with Howard Rheingold's concepts of virtual communities. At this point let's mention the work of a few scholars in the area:
JENNY PREECE
Purpose
TRIBE.NET
describes its founding mission on its "
about tribe.net
" page like this,
"we believe in the power of connecting to other people to get things done. Since that can be surprisingly hard in a city, we founded tribe.net to make it easier. Whether it's for finding the right job, a killer apartment, a good restaurant, a gentle dentist, or a hiking buddy, we think those tasks are best done by connecting with other local people for advice and sharing. "
However, despite this being the purpose for founding tribe.net, I assert few users are utilizing the service to these ends. Most are motivated to join tribes for social and psychological fulfillment.
People
Tribe.net allows members to manage the depth of connections, with a good balance between privacy and accessibility. One can search for other members not only by basic information (name, gender, and profession) but also by degrees of connection ranging from immediate friends through the four degrees of separation.
Tribe.net seems to be aimed at people who are "new" to a geographical area. Again, I do not see a lot of evidence that the site is used that way. If tribe.net plans to attract advertisers as they state in their businessplan, they will need to define a target market whether of not that is an accurate demographic or psychological profile of active users. I direct you attention again to the exemplars above.
Policy
Preece asserts that the way a community establishes and enforces policies will necessarily shape the way people interact and thus its ultimate success. Here is a statement from the Tribe.net
Terms of Use
:
"For all this to work, we have to build an online community in which people
feel comfortable sharing their knowledge (and questions). So we have a thorough
privacy policy, which you should read, and we give users lots of control over
which pieces of their personal information get displayed to whom, and how and
whether they are contacted by other community members. It's also why we require people to register and create profiles in order to post to Local Favorites,
Services, or individual tribes. As in any good community, you should be
accountable (to the community) for what you say and do. And also as with any good community, you have to be an active citizen to get the most out of it."
Regarding content in general, tribe.net policy states,
"Tribe Networks, Inc. may review from time to time and delete any content that violates this Agreement or which might be offensive, illegal, or harm the safety of or violate the rights of other users and members."
Hate speech is not tolerated and as defined by tribe.net, "hate speech may consist of symbols or images, as well as text." These policies are apparently enforced by a person called the
TERMS OF USE GUY
who is cruising tribes, listings, recommendations, and event postings looking for violations. He has the power to revoke accounts without appeal.

Tribe.net allows mature content if the user selects to allow viewing of such content when establishing an account. Although nudity is permitted on tribe.net it is NOT allowed to be used in main photos for profiles or tribes, and is not permitted within listings. Generally, members who violate these guidelines will receive two warnings; if further violations occur, your tribe.net account may be removed. Policy is used to protect users, as with the privacy policy, and also to enhance the the quality of the "social" experience on tribe.net.
I looked through the tribe.net
PRIVACY POLICY
. It seemed pretty standard with the addition of detailed statements about how they use a method called "click tracking" to log user movement throughout our service: "
As part of this effort, we passively collect IP address, Web browser type, domain names, access times, referring URLs and page views for each session, and how they share information gathered about members...We will not sell, lease or exchange your personal data to third parties without first obtaining your express consent, unless required by law or to protect your membership
."
The site not only gives users many choices regarding profile content, but also in messaging. Other users can easily be prevented from sending unwanted mail. The resulting reduction in undesired CMC traffic makes for a less stressful experience for members.
Usability
Tribe.Net acknowledges the importance of usability, another area stressed by Preece. They randomly distribute usability surveys, "
Tribe.net may contact registered members to invite them to participate in usability surveys. Participation in these surveys is purely voluntary...occasionally, we may request your email address for the purpose of sending you a reward for completing the survey.
" I have not yet been surveyed, but found the site easy to navigate. If I were to make any suggestion, it would be to reduce the number of visible links. When new users join tribe.net they sometimes miss important features because of link overload.
Socialability
If tribe.net hopes to convince local advertisers to post on the site. They need to demonstrate a large population of users. It stands to reason that users will not stay in an unsocial or unpleasant environment. Preece stresses the importance of designing socialability into a site's policy scheme. Here are a two policies that Tribe put in place to provide a friendly, social environment. They are enforced by the TERMS OF USE GUY.
--USER CONDUCT
.
You agree to act responsibly and to treat other users and members with respect.
--HARASSMENT
.
Members affirm that they will not use this service to harass or abuse other members. Individuals who have demonstrably harassed other individuals via message boards, private messages, listings, or using other means may be removed from tribe.net.

Some features designed into the site also enhance socialability. Each tribe is a discussion group that is moderated by its founder, and individuals must join before being permitted to post. This results in fewer flames or obnoxious messages. Users also have the ability to block members easily. This prevents unauthorized intrusions from troublemakers or the inadvertently (or unwisely) invited. In fact, Tribe.net offers excellent control over privacy and contact settings. You can selectively hide your gender, age, location, and online status in your profile. And when blocking messages from members of your network, you can elect to maintain them as "friends," so that you don't lose the part of your network they link you into. Of course, you can easily delete former friends from your network as well.
DOC SEARLES – AND THE CLUETRAIN MANIFESTO
Markets as conversations
is not exemplified by the automated listings from the non-human clients such as Apartments.com. Better examples on tribe.net are the discussion threads that attach to each restaurant recommendations. Marketing is also happening in tribe discussions themselves. For example, two of my new "friends" started recommending travel tour companies to me in Europe and sent me links etc. They told me what to look for, who they used and how much to pay. The "markets as conversations" concept is functioning. My discussion of tour groups also reflected C.M. (#11),
"People in networked markets figure out that they get far better information and support from one another than from vendors. So much for corporate rhetoric about adding value to commoditized products
." I believed every word she typed and, if I were in the market for a tour company, I would be clicking on her supplied links.
NOTE
: Most of the
Cluetrain Manifesto
is about getting companies to reach out, join a community and speak with a human voice. Tribe.net isn't about that. There is no corporate presence or rhetoric. There is discussion among community members recommendations of services etc. In C.M.(#53), Doc asserts that there are two conversations going on : one inside the company and one with the market. Tribe.net seems to represent a third conversation one within the market with only indirect links to companies.
Given the strength of product and service recommendations from individuals with common interests and no stake held in a given company, I see the wisdom in encouraging employees to join network sites and not be shy about their jobs. There are a number of related points in the Cluetrain Manifesto: (#84) We know some people from your company. They're pretty cool online. Do you have anymore like that you're hiding? Can they come out and play? ; (#85) When we have questions, we turn to each other for answers. If you didn't't have a tight rein on "your people" maybe they would be among the people we turn to; and (#91) Our allegiance is to ourselves—our friends, our new allies and acquaintances, even our sparring partners. Companies who have no part in this world, also have no future.
MARK GRANOVETTER - Strength of Weak Ties
Tribe.net net defines a personal network extending to four degrees of separation. Users start accounts for the specific purpose of establishing weak ties. At this point on tribe.net, my "direct" ties are defined as my "friends" (I have ten) and my indirect ties (weak ties) are defined as my network. I currently have 55,405 in my network. There is no such thing as a third party introduction. Participants must initiate contact and request and friendship.
However, the four degrees allows you to surf for potential friends. For instance, if you find someone who shares your interests, it is likely that you might have something in common with other friends of their's, so you can browse their friends' profiles, etc. The four-degrees thing is really about tribe.net providing users with a navigation aid for more fruitful trolling!
I can agree with Granovetter's contention that the removal of a weak tie does more potential damage to a network than does removal of a strong tie. When looking over potential friends on tribe.net one always wants to attract friends who have A LOT of friends or "weak ties." This connection will grow your network faster and provide more access to more capital etc.
Granovetter wrote,
"The strength of a tie is a...combination of the amount of time, the emotional intensity, the intimacy (mutual confiding), and the reciprocal services which characterize the tie
." (Pg. 1361) Issues of identity and systemic limitations which"slow" the communicative process limit the time and intensity of communication on tribe.net. One may share intimate details etc. He also asserted,
"Those to whom we are weakly tied are more likely to move in circles different from our own and will thus have access to information different from that which we receive
." I saw this is my discussion about European tour guides. Two friends, Susan and Francesca, both recommended archeological tour companies Both were in the
armchair historians
tribe, and neither was in each others "Friend List." One woman had 66 friends and the other had 63. They were in the same tribe and didn't know one another. I added both to my friends list and linked them. I became a bridge between weak ties in Granovetter-speak.
HOWARD RHEINGOLD
After messaging, posting, finding a chat room, reading "about tribe.net," and at one point even starting a discussion of the possibility of tribe members getting together for a major event, I finally found evidence of one occurrence that might have galvanized one particular tribe, the Burning Man tribe, into a virtual community. This is a response I received from Walter Thompson, Director of Content and Customer Service:
Unfortunately, a few Tribe.net members have passed away, and we've received
requests from friends who've asked us to take action with the deceased
members' profile. In one case, the departed's friends asked us to maintain
the profile so they would have an online memorial friends could visit.

In another case, the member had removed all of their personal data from our
site before taking their own life. We elected to honor their wish to remove
their Tribe.net profile, and unsubscribed their account entirely.

I'm very familiar with the goings-on in our community, but I'm not aware of
a singular, tragic event that caused our members to coalesce around an
individual.

The closest thing that comes to mind originated from the Burning Man Tribe:
there was an assault at BM in August, and friends of the victim used the BM
Tribe to seek out witnesses who could identify the assailant. As it turned
out, the assailant confessed in a private message, and later to the entire
Tribe itself. Using first-person accounts, they were able to identify the
individual, and we were later contacted by the Placer County, NV Sheriff's
office with a subpoena seeking additional info.

These events did not "happen" in real life, but, especially in the case of the Burning Man assault, they do have a direct impact on "real" offline lives. I have found evidence of support groups and empathy for getting a member through some rough times. Groups exist for
Cancer
,
STDs
, and G
rieving
among other catastrophic occurrences.
Keeping in mind that the stated purpose of Tribe.Net is to bring people together in a community, I participated in this
discussion thread
in the
Harry Potter Fans
tribe:
Skarlett F
Meet up in Salem next Oct?
Keturah

hmmm sounds like fun, and I've always wanted to visit Salem!
Martin
Salem is really cool. They have some fun ghost tours you can take...lantern led at night.
Funny, the locals really hate the whole witch thing. The park's dept. is really trying to focus tourism on the city's architectural restorations and maritime past.
Witch I could go!
Skarlett F

It's a year away-could be a fun excuse for our Tribe to meet and greet in person
:)

Martin

Has that ever happened? Where people from this tribe or any other tribe got together IRL?? If so, how often does it happen?
Keturah
I've heard of people meeting...it's usually the local tribes though...there's an Atlanta tribe that meets on a regular basis.

Skarlett F

…and I've heard the Denver tribe meets for happy hour every couple of months-

Martin
Ever hear of the Raleigh tribe getting together. Have you ever actually met someone from the group?

Monkey
the burningman tribe seems to get together ....oh once a year in the middle of the black rock desert....30,000 of us

Steven S

The Seattle History tribe has planned pizza parties and dinners.
I'd love to do the HPF tribe one! But which Salem do you mean? Oregon would be easiest for me... :)
Skarlett F

It would be easiest for me too, but the event the thread was started about is on the east coast. Wonder how many of us are close enough to meet up for a weekend?
We could go to the Magic Kingdom! :)

NAN LIN
"
The premise behind the notion of Social Capital is...investment in social relations with expected returns in the marketplace
." (Lin, pg. 19) Lin identifies two different types of resources that can be accessed through social interaction: personal resources (possessions and symbolic goods like degrees and titles) and social resources which are accessed through a person's social resources. Tribe.net's founders envisioned both types of capital being accessible through their network site and tried to leverage a localization of this capital.
The friends made on tribe.net, in Lin's terminology, are both a valued resource and a means to additional resources. To get friends you must join tribes, post to the tribes, respond to other peoples' ramblings, and you will need an interesting profile. In Preece's terms, your profile site needs to have a very high level of socialability. It has to be welcoming, entertaining, and must share enough intimate information about the user to convey a sense of openness and welcome.
Thus access to social capital on tribe.net is tied to self-promotion that entails a display of a symbols that indicate that a user does have access to resources. There is an evaluation process. Some friends are better to have than other friends. This is apparent through the number of testimonials (I have none) which appear on your profile page next to your rogue's gallery of friends. The more testimonials one has, the better odds the "investment" will pay some dividend in terms of "social capital" Other indicators of access to resources might be the number of friends one has and the tribes one has joined. Members in the Grad Students, Young Republican, Artists, and Exhibitionists tribes all have different resource potential. By scanning a member's tribes, a user can derive a fair assessment of the potential "value" of a tie.
There is also an underlying "entertainment" function of tribe.net. During these past weeks I would access my account and have it running under whatever I was doing online. My hope was that someone would post something insightful or clever to one of my tribes or message me with something funny. Users gain a reputation for being "fun" or outrageous in some way. This will win them friends. As the friends count increases...so does a user's social capital and influence.
BERRY WELLMAN
Wellman asserts that the Internet is not some new virtual universe supplanting our real existence, but rather a tool, or mode of communication, that will be incorporated into our real lives. He bites on the "Click and Bricks" model. Tribe's business model is very Wellmanesque, Unlike MUDs and MOOs that work toward creating a substitute society or world, Tribe.Net attempts to facilitate socialization in the real world by facilitating communication between like-minded users in a particular geographical area.
Wellman, as he examines the integration of Computer Mediated Communication into our everyday lives, would see a significant divergence between the intended purpose of tribe.net and how it is actually being utilized. Based on all the empty pull-down menus, few companies are advertising locally on the regional tribe homepages. Users are posting reviews and Commentary, but there is little else on the local level.
Is tribe.net a Community?

I would assert that the "macro" level, the tribe or localized tribes, would not qualify as a community but rather a virtual settlement in which individual's form virtual groups where greater emotional ties are formed. Some of these smaller groups, the topical tribes, will at times evolve into small communities. The Burning Man Tribe would likely be a sound example of this. Most topical tribes have too little sustained dialogue to foster stronger ties and emotional involvement, and thus remain loose virtual groups held together by imagined realities fostered by common interests in the "real" world.